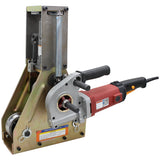 SWAG Electric Drive / Bottle Jack Kit For The Harbor Freight Tubing Roller
The Harbor Freight Tubing roller is in a league of its own based on one simple principle.....price. The HF tubing roller, which includes the machine and three roller die sets, (1.0" 1.5" and 2.0" round tube dies) is a great machine for the price. However at such a low price point there is definitely room from improvement.
This kit uses the Harbor freight electric pipe threader and the Harbor Freight 4 ton bottle jack, however it can be broken up if you are looking to use just the bottle jack or the electric pipe threader attachments by it self.
You will notice in the pictures above that we also have our weld on wings kit installed, the wings are highly recommended in conjunction electric drive / bottle jack kit. We have modified the tubing roller far beyond it's original design intent and the weld on wings reduce the amount of stress on the center drive axle, bearings and roller dies, it also reduces premature wear on the electric pipe threader.
The weld on wings, 4 ton bottle jack, electric pipe threader and the Harbor Freight tube roller is not included with this kit.
We know what you are thinking, how many Chinese parts can you attach to this tubing roller? Rest assured the pipe threader is a true work horse. It is rated at a 2.15 HP motor equivalent, more than enough power to easily swing a 200 lb man in circles if desired. We have tried to kill the pipe threader by rolling a 20' piece of 1.75" .120 wall DOM material down to a 24" dia circle. in less than a hour... it got hot, but still works as good as the day we pulled it out of the box.
All material is laser cut out of 1/4" steel, springs, bottle jack clamp and detailed color instructions are provided.
The 4 ton bottle jack and electric pipe threader are not included with this kit. This bundle will convert your roller to utilize these upgrades.
The HF 4 Ton Bottle Jack can be purchased HERE.
The HF Pipe Threader can be purchased HERE.
Please note that this kit is designed to work with the Harbor Freight Central Machinery Pipe Threader. It will not work with the new Bauer Threader.
Let's do the math, your HF tubing roller $250, our electric drive kit $90, a HF 4 ton bottle jack $30, and a HF pipe threader $230, total cost = $600. For the total cost of $600 you have an electrically driven tubing roller that comes with 3 die sizes 1.0" 1.5" and 2.0" round tube dies. Hydraulic applied down pressure. No other kit on the market even comes close at even 2.5X the cost. In addition we over 70 different dies all designed to fit the HF tubing roller.
If you're looking to speed up the assembly process and don't want to weld the 1/2" pipe threading die that comes with the Harbor Freight pipe threader kit to the tube roller drive axle, we now sell a fully Machined Drive Hub that will allow you to easily attach the pipe threader to the drive axle. The 1/2" pipe threading die is not sold individually through Harbor Freight, so once it is welded in place you are not able to take it off if/when you need to use the tool as it was originally intended for. We also sell the tubing roller drive axle that is machined out of 4130 chromoly steel.
A great upgrade. I fabricated a custom rack on wheels. Easy to operate way better than that big bus wheel hahah. I use it a lot for tube steel plus flat bar. Makes the job way faster and easier. Worth every penny. Thanks
Excellent
I've upgraded my jd2 notcher with their product and now my HF tube roller. I have the wings and the bottle jack kit on it never did the electric pipe threader. This thing performs perfectly now. The threaded top plate blew out doing 1.75 Dom tubing. After the bottle jack was installed it made the job so much easier. No complaints other then after welding the spring hangers to the shaft attached to the center die it was to shirt and I couldn't pin it properly. Maybe it's an error on my end? Idk the direction were decent but it seems something is a miss. Ended up rigging it to work and it's just fine. The clamp that holds the bottle jack to the center die plate was to small so I had to grind it down to make it work. Overall I'm happy and would absolutely recommend
Only picture I have is what I did with it 🤷🏻‍♂️
Well worth it .
I took on a job to bend 2 OD stainless steel tubing to a specific radius . Had to pack the ID with sand to keep it from deforming. Using the HF tube roller with the hand wheel seemed like a great idea at the time. Well after about two hours and only achieving some minimal bending action , I said screw this. I had to make 10 pieces. My older body wasnt up to this crazy workout. So I bit the bullet and bought the SWAG electric drive/ bottle jack kit for my HF tube roller. Dam this thing is awesome. Not only did it reduced my production time in a big way , it also saved me from the physical part that I really cant do anymore. The price, quality,support and service was great . Thanks SWAG .
Mr
A great upgrade for my HF tubing roller I have installed it just haven't used it
Mr
Out of the box, my HF roller worked for 20mins before it failed, as to be expected from China made tools. Added the SWAG kit, along with the 4130 drive shaft and billet wheels. Now I actually have a tool that works great, that didn't break the bank.