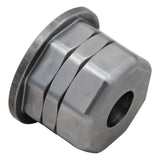 SWAG Machined Drive Hub For The Electric Pipe Threader
If you're looking to speed up the assembly process and don't want to weld the 1/2" pipe threading die that comes with the Harbor Freight pipe threader kit to the tube roller drive axle, we now sell a fully machined drive hub that will allow you to easily attach the pipe threader to the drive axle. The 1/2" pipe threading die is not sold individually through Harbor Freight so once it is welded in place you are not able to take it off if/when you need to use the tool as it was originally intended for. We also sell the tubing roller drive axle that is machined out of 4130 chromoly steel.
The machined drive hub will need to be tack welded to the drive axle, as set screws and/or key ways have a tendency to come loose under the high torque loads and the constant back and forth motion of the pipe threader. This machined hub is designed to fit the Harbor Freight tube roller.
The bore of the Machined Drive Hub measures 20mm so it will fit perfectly on your Harbor Freight or SWAG Off Road Drive axle.
NOTE: Drive Axle not included. It must be ordered separately.
If you are looking to add an Electric Pipe Threader to your HULK Tube Roller, the two kit options are linked below:
Bauer Heavy Duty Pipe Threader Kit
Arrived very fast! Have not used it yet but the craftsmanship is amazing. Very well built and thought out. Would highly recommend!
Great part
I ordered the hub after I had purchased the tubing roller upgrade kit to avoid using/losing the HF die from future use with the tool. The hub fits a lot better than aligning/centering the HF die prior to welding. I'm going to order another one to upgrade my old school hand-crank slip roll
Owner/operator
Beautiful machined piece. I also bought a extra to drive my slip roller and bead roller. Thanks you for a great product.
Flunky
Works perfect! I enlarged center hole to 1.175 and am using on a grizzly slip roll machine to make the work a one person operation.