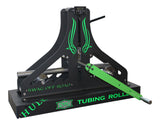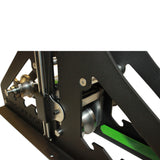 SWAG

HULK

Tubing Roller
The

HULK

is 100% designed, machined, formed, manufactured & assembled in the USA.
Weighing in at 80 pounds, this machine is a real beast! With 4340 Chromoly axles, fully machined drive yoke, and powered by a two-ton bottle jack, there isn't much that the Hulk roller can't handle.
We currently offer 76 different die sizes profiled for round tube, round pipe, and square tube. We also have a full line of unique dies for rolling flat bar, handrail cap, rectangular tubing, and square tubing in a diamond profile. Most of our dies are also available in Delrin which is well suited for rolling anodized aluminum, copper, brass, and chrome finishes where abrasion or scratches on the material surface are not acceptable. The center drive dies are fully keyed to the drive axle to ensures smooth operation and a solid connection.
If you have any experience rolling tubing, you know that most machines have a few main issues; the material twisting as it is rolled and how difficult it is to make repeatable bends. We have addressed the first issue by implementing several key design features. The 4340 chromoly non-drive axles are machined down to a tolerance of +/-.003" and two adjustable shaft collars on each axle are used to keep the dies perfectly centered between the ¼" thick steel frame plates. This prevents any side-to-side play that can cause the material to corkscrew as it is rolled.
The second major cause of material twisting as it is rolled is play in the center drive yoke. There are several large radius rollers on the market that use a cast steel yoke or a formed piece of steel to hold the center drive roller in place. Unfortunately, cast and formed parts will never be perfectly square or straight. When the center yoke is not square, the drive die tends to contact the material you are rolling with uneven pressure, pushing your material to one side, and causing it to twist. The center drive yoke on the HULK is made of 3 pieces of ¾" thick steel which have been fully machined and bolted together to ensure a perfectly flat and square yoke. This means the downward force that the drive die exerts on the material is always straight down, thus preventing any twisting and helping to prevent irregular material deformation.
Another often overlooked issue many people experience when rolling tube is the challenge of creating repeatable radius bends. The HULK includes a high-quality digital read out height gauge that measures downward travel of the center drive die, making it easier to create the same arc over and over. To use the DRO, place your material in the roller then "zero" the height gauge when the drive die is barely touching the material. Roll one piece of material to the desired radius and record the location of the outer dies as well as the measurement displayed on the digital read out. If you need to create the same part in the future from the same material, just put the non-drive dies in the same location and roll until the DRO gives you the correct measurement. Easy!
Most rollers on the market use a large top-screw to apply downward pressure on the material and cause it to form a radius. Tightening the top screw can be quite difficult when working with thick-walled material or square tubing in general. The HULK uses a 2-ton bottle jack. This makes applying smooth, consistent downward force much easier. The 2-ton bottle jack is bolted to the top of the drive yoke to prevent any movement while under load and ensure it is always perfectly centered over your material.
To ensure smooth operation, all of the dies ride on high-quality roller bearing. The 3-way adjustable manual handle can be unbolted and replaced with an electric pipe threader that is available from Harbor Freight. Their pipe threader (item #62203) is an easy, simple to install add on that will take the cumbersome and tedious chore of rolling thick-walled tubing and turn it into an almost completely hands-free operation.
With its powder coated steel frame, internally threaded aluminum spacers, green powder coated handle and stainless-steel fasteners, this tubing roller is designed to look as good as it performs. The HULK is sold as shown above, except for the sheet metal base structure which is not included. It comes 90% assembled.
As a general rule of thumb, the Hulk Roller can roll round tubing and solid material (flat bar, square stock, etc,) to a 12" radius and square/rectangular tubing to a ~36"-48" radius.
The (4) 3/8" bottom mounting hole locations are 29" x 7.625" on center. The total footprint of the base plate is 30" x 8.625".
Dies can be purchased using the list above or by themselves. Each die size includes one drive roller and two non-drive rollers. You will not need a replacement drive axle since one comes with the tubing roller by default. We have over 1000 die sets on the shelf and 99.9% of the time we have every die size in stock.

Note: Round Tube and Round Pipe are different materials. Please make sure to select the correct die for your material. If you have questions regarding the difference, please consult our FAQ page or send us an email at sales@swagoffroad.com
Electric Pipe Threader Upgrade Kit
Looking to power your Hulk instead of cranking it by hand? We have the solution with our Electric Pipe Threader Upgrade Kits. Harbor Freight currently offers two different pipe threaders, the Central Machinery and the brand new Bauer offering. Though the Bauer threader is a bit more, it has more power and boasts a 40% speed increase so it very well might be worth the extra cost depending on your rolling style. Whichever option you go with, both upgrade kits come with a new axle that features a drive hub as well as an anti-rotation assembly that forces the threader to power the axle rather than just spinning around it. These kits are fully welded and ready to be added to your Hulk Roller! No assembly required.

Electric Pipe Threaders are not included with the kits, the can be purchased from Harbor Freight here:
It is a beast.
I needed to form two curved sections of 2x2 steel tubing. I thought about pie cutting and welding but was looking for a more simplified method. Internet searches pointed me to the Hulk. Watched a few videos and decided it would be the best choice for my project. Ordered and received in record time. Setup was pretty self explanatory even tho I did read instructions. It took me about a week to roll the first tube because I was going at it with caution, and we'll I didn't want to screw it up. And also I was working on it during my lunch break at work for about 10 mins off and on. Completed the first one and it matched my template perfectly. The second one took me about an hour and a half with a lot of screwing around while doing it. Again, it matched my template spot on. I did make one slight modification tho. I did the first tube with the supplies handle but my shoulders aren't all that great and going that range of motion was sometimes painful and also the main reason why it took me so long to get the first one done. The second one I made a plate to replace the handle with a socket welded to it and was able to use my breaker bar with MUCH more comfort. If I end up doing more of this I am going to seriously consider one of the electric add-ons. But yeah, it's well built, easy to assemble, and one you get one done, turning out repeat parts is easy to do.
perfect
I absolutely love this roller. Setup was a breeze and my first project came out perfect. The bends were easily repeatable. I cannot wait for the next project.
Home metal shop
What is there to say, this thing is awesome and there customer support is excellent. Very quick shipping, easy to put together. i had a couple of question about the assembly and which dies i should purchase with it for my job. Swage Off Road was excellent. always returning my calls in a timely fashion. offered great advise for my application. I needed to make "Heavy Duty" Wagon Wheel rims as the one i had were not heavy enough. i was able to roll both rim, my first try, in like 5 minutes and the digital read out work flawlessly and was able to get to identical rims first try. in fact, i did 1 and my wife did the other. and they were perfect!!! It worth the extra bucks to get this machine.
A small bit of advise, watch a couple YouTube videos on setting up your dies and aligning them properly. i had the flat bar die with the adjustable collar pay attention, take your time, get them set and aligned well and you will have an easy job ahead of you.