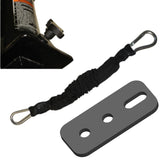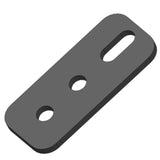 Tube Bender Optional Accessories
Imagine how much easier your job is going to be if you're not having to manually retract your tube bender every time you need to re-pin your die set. The 100 pounds of resistance offered by this return spring is backwards compatible with our Air/Hydro tube bender ram mount. No tools required for installation, just hook it up to your bender and the back side of your 8 ton ram and you're done. The springs are made of rubber tubing that's encapsulated in a polypropylene fabric sleeve for excellent wear resistance.
---
Air/hydro Ram Mount Bracket
Looking to save time? If you did not purchase a mounting pedestal to mount your tubing bender you will need to make a mounting plate. This bracket is laser cut out of 3/8" steel plate and is compatible with every tube bender that fits our air/hydraulic ram mount kits.Please note: If you purchased our formed air/hydro ram mount this mounting bracket is not included with your purchase.
---
We save you the hassle of using the 18" long handle to open and close the pressure release valve on your 8 ton ram. Fully machined with a black oxide finish and built to last. To install you simply press out the roll pin on the 8 ton ram, slide over the SWAG machined thumb knob, then reinstall the roll pin.
NOTE: Some of the newer HF 20 ton jacks have a T-handle one piece design for pressure release valve. In order to install our thumb knob on this design, additional modifications are required.
Yes
Life saving product. Only thing to look out for is on my JD2 model 32 i had to hog out the carabeaner in order for it to fit over the bolt sleeve.
Tube bender return strap
Quality is #1 with these guys, very simple to use, built very well, and comes with an awesome instruction sheet for those who need a good visual
Mr
works super didn't see how i got along without it..
Home owner
I just put the Elastic return spring on my hydro bender, and I can't believe I waited this long to do it. I will NEVER bend another tube without it. I spin the hydro release, and the ram returns... it's perfect. what a great idea... well don
crawlerhauler
I originally bought the bracket for my tube bender that holds the air over hydralic ram that swag recommend bought the return elastic snap works perfectly thanks to swag they definitely make QUALITY PRODUCTS