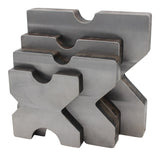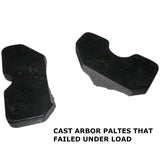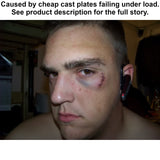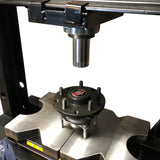 Machined Arbor Press Plates (Pair)
Cut out of high strength grade 50-A572 steel plate. These arbor press plates are sold as a pair and are designed to replace the junk cast arbor plates that are prone to shattering under heavy load. Every SWAG arbor press plate is machined on both sides to remove mill scale and sharp edges.
We currently offer 4 different sizes of arbor plates:
7.00" X 7.00" X 1.0" - Ideal size for factory replacement of the 12 ton Harbor Freight cast arbor plates
8.50'' X 10.00'' X 1.50'' - Ideal size for factory replacement of the 20 ton Harbor Freight cast arbor plates
9.75" X 9.75" X 1.50"
12.00" X 12.00" X 1.25" - Ideal size for most 50 Ton Shop Presses

The low cost cast arbor plates that are typical provided with hydraulic presses often fail under shock loading.

Learn from others and look at the 3rd picture above provided by Mud Slayer 2.0 on Pirate4x4.com who was generous enough to provide the story below.
I was pressing on a bushing using a Harbor Freight 20 ton press with the provided cast arbor plates. I felt the bushing starting to get stiff. about 1/4" left to go I gave one good pull and I heard POW! I felt like I had been punched in the face by a gorilla as the cast arbor plate had just exploded.

One of the guys in the shop came over to check on me and said "Dude you're face is bleeding" I had a gash right next to my left eye. I was driven to the Dr. office where I got 8 stitches. I was told I was very lucky I didn't lose my eye.

When I returned to the shop I was looking at the press and noticed the porous nature of the arbor plates. This was the day I learned about the material properties of Cast Iron."
Massive arbor plates
I'm going to purchase the 20 ton heavy duty finger break from Swag and also use the press for other projects. After discussing my intentions and the plates with Swag I decided I'd better ditch the Chinese cast iron and buy some good ones. These are massive !
I cleaned up the edges and drilled a hole in them so I can send them out for powder coating.
They are a big improvement and I won't have to worry about the cast iron failing, it can be dangerous if they explode under pressure.
plannt mechanic supervisor
Press plates are very nice and thick. Excellent quality and finish. Should outlast the 50 ton press's.
SWAG Arbor Press Plates
Very nice quality, Super strong, quick shipping,
Arbor plates
Bought the Swag 107.5 arbor plates for my 20ton HF press to replace my stock ones. There is no comparison between the 2. The Swag plates are pretty massive and quite heavy. Your mail person will definitely resent you for awhile when they come in. The extra size and the flat machined surface of the Swag plates make using the press manageable when I have my finger break installed.