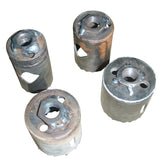 SWAG "Super Shaft" Replacement Tubing Notcher Shaft
The Swag Super Shaft is an exceptional upgrade for your JD² TN100, JD² Notchmaster, Pro Tools HSN tubing notcher and or the Baileigh TN-250 tube notcher, or any tubing notcher that has a shaft diameter of .75", 1.00" or 1.25" OD. This upgrade is a vast improvement over the existing sub par designs that are currently in the market place.
The Super Shaft is engineered to stand the test of time, and machined out of polished & ground 4140 chromoly steel, made in the USA. The Swag Super Shaft easily allows you to switch from one hole saw to the next with the use of threaded arbors shown above and sold HERE.
You no longer need to jam screw drivers in the port holes to remove your hole saws and or use thread reducers in your hole saws to get the correct thread diameter. You will no longer be breaking screwdrivers, ob-longing your hole saws, and or breaking and welding the thread reducers on your hole saws, do the math and save your self the aggravation.
We have found that it works best to permanently leave the arbor inserts in your hole saws. To remove the arbors from the shaft you simply loosening the 3 sets screws, this cuts down on having to thread/unthread the hole saw and potentially galling up the threads on your hole saws. We recommend using Milwaukee Hole Saw Arbors as they seem to have the tightest tolerances.

NOTE: Due to variations in the bore dimensions of your bearing block, your needle bearings may be slightly constricted. This can make it difficult to insert your shaft. Make sure to pack your bearings with grease and push all of the needles up into the cage. If your shaft still will not fit, chuck it up into your drill and spin it while pushing it into the bearings.
Super Shaft - WORTH THE UPGRADE!!!
Yet another thoughtful and innovative product from these guys. If you think you might not need this, keep notching- sooner or later an issue will surface that will stop your project in its' tracks.
I have a knock-off JD2 notcher (which doesn't get used all too often) and purchased this item to round out (ALL) the other SWAG notcher items I've purchased in an attempt to make this unit the best it can be. I did have to regrind the shaft a couple thous' (import bearings spec'd out a bit smaller than this shaft)- but I assumed this prior to purchase.
None-the-less- no regrets on any SWAG purchase, and this shaft is top-notch! It definitely makes all aspects of dealing with a greasy shaft a breeze (compared to my previous set-up).
If an occasional metal working hobbyist can appreciate an upgrade such as this, than I'd assume anyone in the trades should consider this GOLD. Thanks for producing QUALITY items that an average Joe weekend warrior can afford!
Top Notch!
Swag does it again. Makes a great product even better. The Super Shaft, the GOAT and Reach Around add an amazing amount of versatility. If youve been thinking about buying any of the Swag accessories for your Notch Master what are you waiting for?
Great upgrade
I had a JD2 clone with a 25mm shaft. I replaced the bearings with 1" I.D. and now have a unit that won't let me down when it counts! The mandrels stay with the cutter and make tool changes a breeze. Typical impressive Swag quality.
Retired Mechanic
I received this product recently and have not had a chance to use it yet. But just like all of the other products I purchased, i am very pleased with thought process and quality this company puts into their products. Thanks Swag Off Road.
Great Replacement
I acquired a used Pro Tools notcher, where the threads on the shaft has stripped off and had the hole saw welded on. Since I need to notch different sizes of tube that wasn't working, so I ordered the Swag Off Road shaft as a replacement. The design is will probably outlast the notcher. It fit perfect and makes switching out different size hole saws a lot easier. Highly recommended!